Angel Wings for Veterans
4620 Haygood Road
Suite 1
Virginia Beach, VA 23455
Phone: 888-849-0507
Mission
Providing wounded, ill and injured veterans or active duty charitable transportation, we ensure access to PTS/TBI treatment, Service dog acquisition, and Adaptive sports events nationwide.
Real Life Story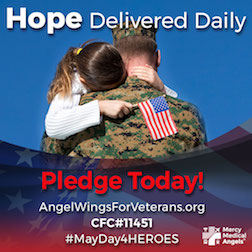 Service Dog Becomes Veteran's Lifeline

He'd been hiding in his closet for weeks, unable to end the war that raged inside his mind. One day, Sgt. First Class Brock S. put a gun to his head and was about to pull the trigger when his wife saw what was happening and grabbed the gun just in time.

It was a transformational moment that led Brock to get help. A veteran of the Iraq war diagnosed with PTSD, Brock had been too close to a powerful explosion that "scrambled" his brains, as he put it. Angel Airlines for Veterans was the bridge of access to a service dog named Tannen that saved the soldier's life. Now he can enjoy his family, go to the mall and restaurants, sleep peacefully,and live in security with Tannen by his side.